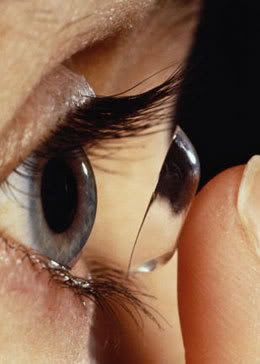 Don't leave your lenses lying around. When not in use, store them in the appropriate container with the cleaning solution. A dusty atmosphere and chemical fumes may damage your lenses, if they are left uncovered. Utmost hygiene must be maintained as contact lenses come into direct contact with your eyes.



Always wash your hands before you handle your lenses. Daily sterilisation of your lens is a must for soft lens users. Sterilisation refers to cleaning of the lenses with the prescribed cleaning solution, which are sold along with the lenses. Clean the lenses daily ONLY with a cleaner prescribed by your doctor. Regular water must not be used for this, as it is not sterile and may damage the lenses. Change the storage fluid daily.



If the cleaning solution or the storage fluid is unclean, or the container is dirty, this may damage the lenses and, in turn, your eyes. If your lenses do not settle on the eye, get them checked. If you experience any sort of pain, watering, redness, discharge, decreasing vision or heaviness, remove the lenses immediately and consult your doctor. Change the lenses periodically, depending upon their life span.