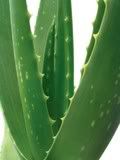 Aloe Vera has many uses. Externally, it is applied for burns and sprains. Internally, it can be taken for jaundice, constipation, loss of appetite and gas formation in the stomach. In burns, the juice or the pulp of the fleshy part of the leaf is applied externally. For sprains, the pulp or the juice may be gently rubbed over the affected part two to three times.

For all these ailments the juice or pulp of this plant is given. You can add a pinch of salt or sugar to the juice, which is bitter. For treating children with aloe juice, you can add honey, sugar, or jaggery to it. For a patient suffering from jaundice, the juice or pulp should be given by adding jaggery or sugar (salt should not be added).

The dose: Both pulp and juice of the aloe should be given in a dose of one teaspoonful (5 ml) thrice a day, preferably on an empty stomach. Keep a growing aloe in your kitchen windowsill handy as it is a great first aid treatment for burns. Aloe Vera will stop the pain almost immediately and even help in healing if a little of it is freshly applied after a few hours.