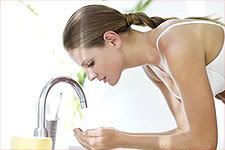 Here are some easy-to-make facial cleansers. All you need to do is raid your kitchen and follow the recipe for some very effective cleansing effect!

1. Oat-yogurt combo You will need:
1/2 cup oatmeal or cornmeal
Plain yogurt
Mix the two to form a paste. Spread it over your entire face and scrub gently. Wash with warm water and enjoy bright sparkling skin. Ideal for daily use.

Did You Know?
Oat grains and straw appear in shampoos, dusting powders, moisturizers, and cleansing bars? Oatmeal is highly absorptive, hypoallergenic, and aids in softening skin. Oats have the best amino acid balance of all the cereal grains and have been clinically proved to help heal dry, itchy skin. Source: Oatmeal: Not just for breakfast anymore2.

Yogurt Walnut Scrub You will need:
1/4 cup plain yogurt
1/4 cup very finely grounded walnuts
Mix ingredients together. Wet your face then gently work the scrub into your skin. Rinse off with warm water.

Did You Know?
Walnuts - During Medieval times, walnuts were considered a medicine. A potion containing walnut leaves was used to treat muscular aches and pains and walnuts were believed to soothe the digestive system.